Wooden Cabins in Pontevedra - Galicia, Spain
Are you looking for a wood-cabin in Galicia? In the heart of Rias Baixas at the Cachadelos Campsite you will find a selection of excellent cabins with capacity from 2-3 people up to 6 people to cater for all your needs.
36 cabins fully equipped, bedding included, so you can just turn up, grab a cool drink, and chill out. 
The cabins come with 1, 2 or 3 bedrooms, with kitchen, bathroom with shower, lounge area and patio or porch with furniture and TV. All bedding is provided but you will need to bring your own towels. The kitchen is well equipped with cooker, oven, sink, fridge, microwave, cutlery, crockery and gadgets including stove hob top coffee maker, hand stick-blender and toaster. The cabins for 2 and 4 people include body-jet shower.
There are radiators available on request for the guest that do not find our evenings temperatures warm enough.
The price of the cabins includes a single parking space for the cabins from 2 up to 4 people. Cabins for up to 6 people include 2 parking spaces in the price.
Our cabins are located in different areas in the campsite. Cabins for 2-4 people are in the North area of the campsite and cabins for up to 6 people on the East side.
Cabins check-out time is 10:30 to allow cleaning time for the next guests. You can still enjoy all the facilities till the end of the day.
Check-in time at busy periods is from 4pm. For earlier entry time please enquire.
36 Wood Cabins with swimming pool and beach
Sleeps from 2 up to 6 people. Choose your cabin to enjoy your holidays in Rias Baixas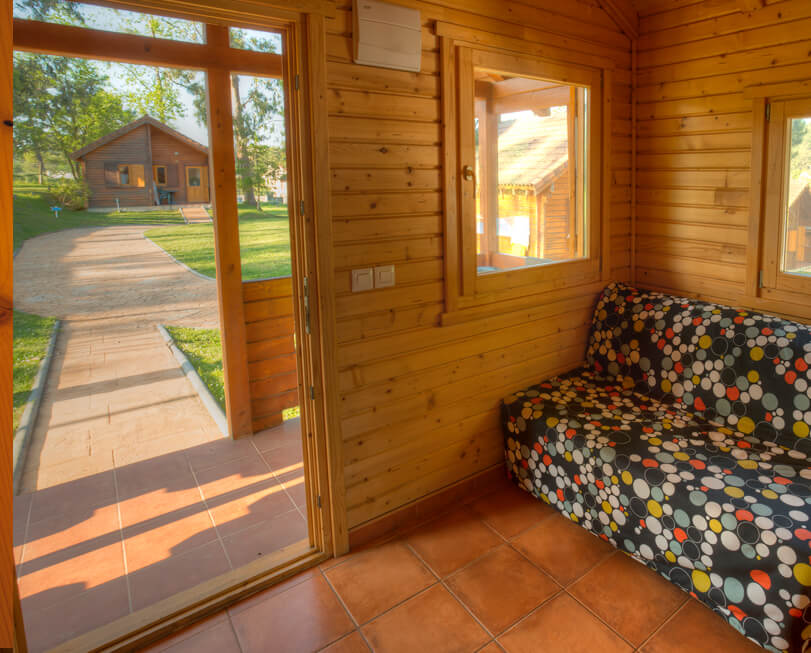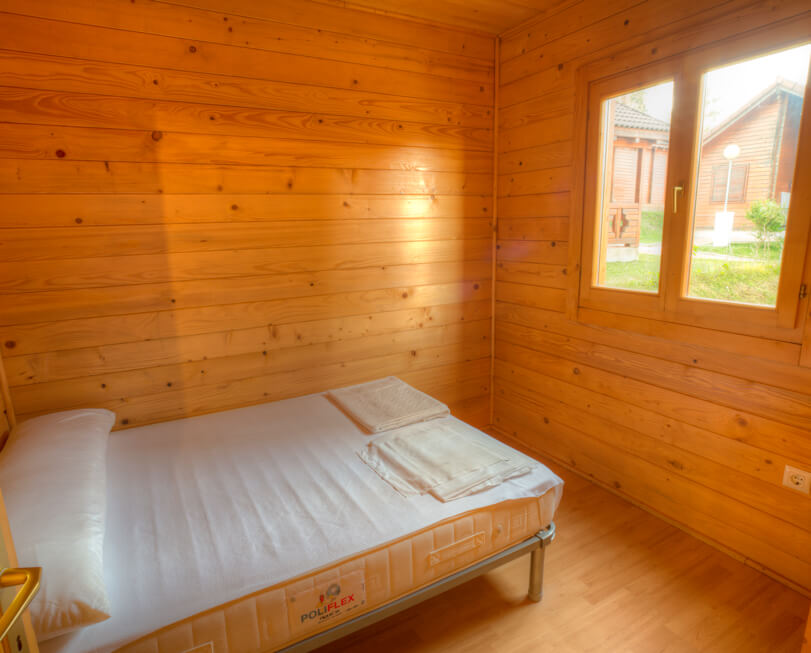 Room 2
Twin beds/ top bunk bed
What are the advantages of choosing a cabin?
The Rias Baixas is a lovely area to enjoy your holiday.
There are many advantages of choosing a cabin. The cabins are fully equipped so there is no need for carrying the equipment needed if you are camping. You can just turn up, unpack your luggage and start your holiday surrounded by our lovely natural environment.
When you rent a cabin at the Cachadelos Campsite you can enjoy the freedom of not having fixed times for breakfast, lunch or dinner. You can use your own kitchen to enjoy cooking your favourite meals at a time convenient for you. The campsite has a supermarket where you can shop for food. And remember, we have a restaurant when you do not feel like cooking or want to get some take away food!
The cabins are distributed along the campsite in a peaceful environment, ideal to enjoy the surrounding nature. If you stay in our campsite, the beach is only a short walk away and Rias Baixas has many other local areas to visit: Sanxenxo, O Grove, Portonovo, Pontevedra. Santiago de Compostela, the Galicia capital city, is a well recommended visit.