A campsite with pitches for tents, caravans and motorcaravans
A Rias Baixas Campsite close to Sanxenxo and Portonovo
There nothing like camping! Our campsite is located in Rias Baixas, next to Portnovo and Sanxenxo and a short walk to the beaches of Playa Major and A Lanzada. If you are a fan of sun and sea holidays Cachadelos Campsite in Rias Baixas is the best place to enjoy the Pontevedra estuary coast with all its beauty and an array of local activities for visitors.
The Cachadelos campsite has been rated as First Class and has great facilities. Our tent or caravan pitches are located so you can enjoy our peaceful environment.
Campsite in Sanxenxo - Pontevedra
We have 248 pitches for caravans or tents and every year we welcome families and couples to enjoy our natural surroundings.
Staying in a campsite is a great way for a family to enjoy a holiday surrounded by nature, breaking with your routine and increasing your wellbeing. The Rias Baixas area where we are located also offers an array of leisure activities from sun and beach, natural parks to walk and enjoy, as well as renowned local food if you feel like dining out.
If you have not been camping recently, have another look. Tent design has changed and to pitch a tent only takes a few minutes. Once you have chosen your pitch you can enjoy all the resources and peaceful environment that this area has on offer. Relax and enjoy your holiday at the Cachadelos campsite!
We have 248 pitches for caravans or tents and every year we welcome families and couples to enjoy our natural surroundings. Our campsite welcomes guests from all around the world many of whom keep coming back year after year.
Our campsite is in the municipality of Sanxenxo. The entrance access is from the road between Sanxenxo and A Lanzada beach.
With over 10 acres you will find the perfect pitch to put up your tent or park your caravan. All the pitches have access points for electricity to hook up to a caravan.
Our campsite is rated first-class for its facilities ensuring you can relax and enjoy your holiday. All the campsite facilities are available for guests using our pitches including our sea-water swimming pool, children playground, BBQ's areas, restaurant, and supermarket.
Dog friendly campsite for guests staying in the campsite pitches!
Pets are welcome in the campsite for guests using tents and caravans. Unfortunately, we do not allow pets in the wood cabins.
Many people like to enjoy their holidays with a "best friend" If you are looking for a dog friendly place, you can bring your dog to Cachadelos Campsite. You will also find dog-friendly beaches nearby 🙂
Dogs must bring their documentation (vaccination card) and those of dangerous breed must be muzzled and always tied.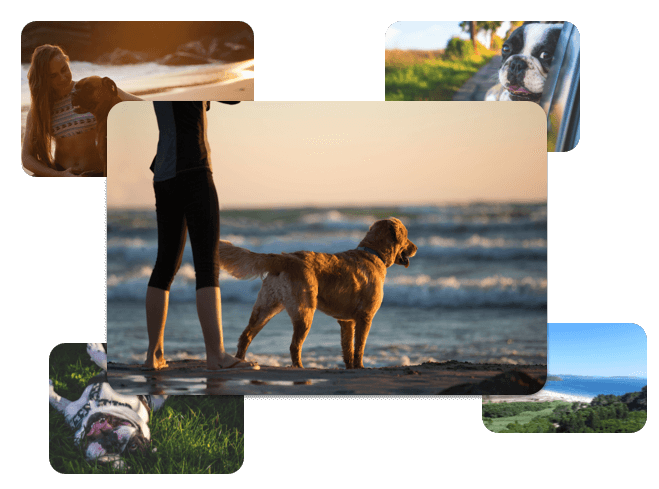 For stays of over 10 days we offer 5% discount. For 15 days and over we offer a 10% discount.

Prices are per day (VAT inclusive). Please note: it is not possible to make advance bookings for pitches so please telephone for availability.
High season
Prices are per day (VAT inclusive)
2022
July and August
| | Camping | PRICES |
| --- | --- | --- |
| | Adult | 7,50 € |
| | Children (4 to 12 years old inclusive) | 6,00 € |
| | Tent | 7,00 € |
| | Caravan | 8,00 € |
| | Motorhome | 14,00 € |
| | Car | 7,00 € |
| | Motorbike | 5,50 € |
| | Electricity | 6,00 € |
Low season
Prices are per day (VAT inclusive)
2022
June and September
| | CAMPING | PRICES |
| --- | --- | --- |
| | Adult | 5,50 € |
| | Children (4 to 12 years old inclusive) | 4,00 € |
| | Tent | 5,50 € |
| | Caravan | 6,50 € |
| | Motorhome | 14,00 € |
| | Car | 5,50 € |
| | Motorbike | 4,00 € |
| | Electricity | 6,00 € |